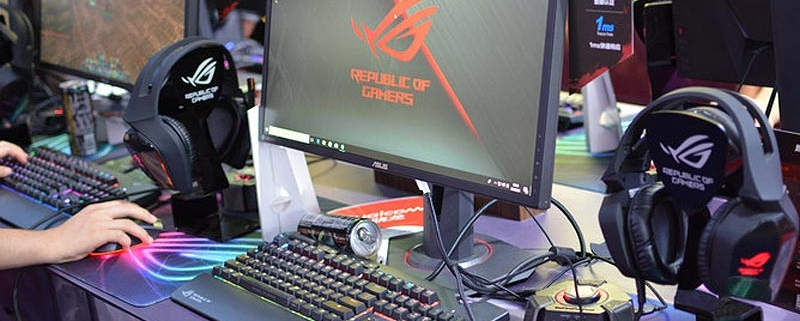 4K resolution + 144Hz refresh rate ASUS PG27UQ display unveiled at NVIDIA booth
If you pay attention to the hardware products in ChinaJoy this year, you will find that the combination of 4K resolution + 144Hz high refresh rate, which was once impossible to achieve, has become the focus of the promotion of the major gaming companies in ChinaJoy this year. As the leading brand of e-sports display, ASUS is the pioneer of such displays. Its newly launched ROG PG27UQ display is equipped with a 3840*2160 (4K) resolution + 144Hz high refresh rate screen, and "step into the future" in advance.
As the VESA's highest-level DisplayHDR 1000-certified display, the ROG PG27UQ's G-SYNC HDR vision technology delivers a wider color gamut, richer color, and higher contrast. Of course, the highlight of the ROG PG27UQ is not limited to this, and its ROG projector is a recharge. When the PG27UQ's belief lamp lights up, I believe that many people are difficult to calm their excitement. As a manifestation of the spirit of e-sports, the light brought by the belief lamp is not so simple to add atmosphere.
However, the ROG PG27UQ is currently not open to the audience. In order not to disappoint the audience, Asustek provided 18 ROG PG278QR e-sports displays at the NVIDIA booth. The display has 2560*1440 (2K) resolution, 165Hz refresh rate, 1ms response time and other top performance configurations, coupled with the G-SYNC technology blessing, I believe that it can also become the ideal e-sports display for many players.
https://ihopestar.com/wp-content/uploads/2018/08/blog-3.jpg
500
800
wayne
https://ihopestar.com/wp-content/uploads/2018/08/logo.png
wayne
2018-08-16 07:52:37
2018-09-25 07:19:12
ASUS esports display fully assists ChinaJoy2018